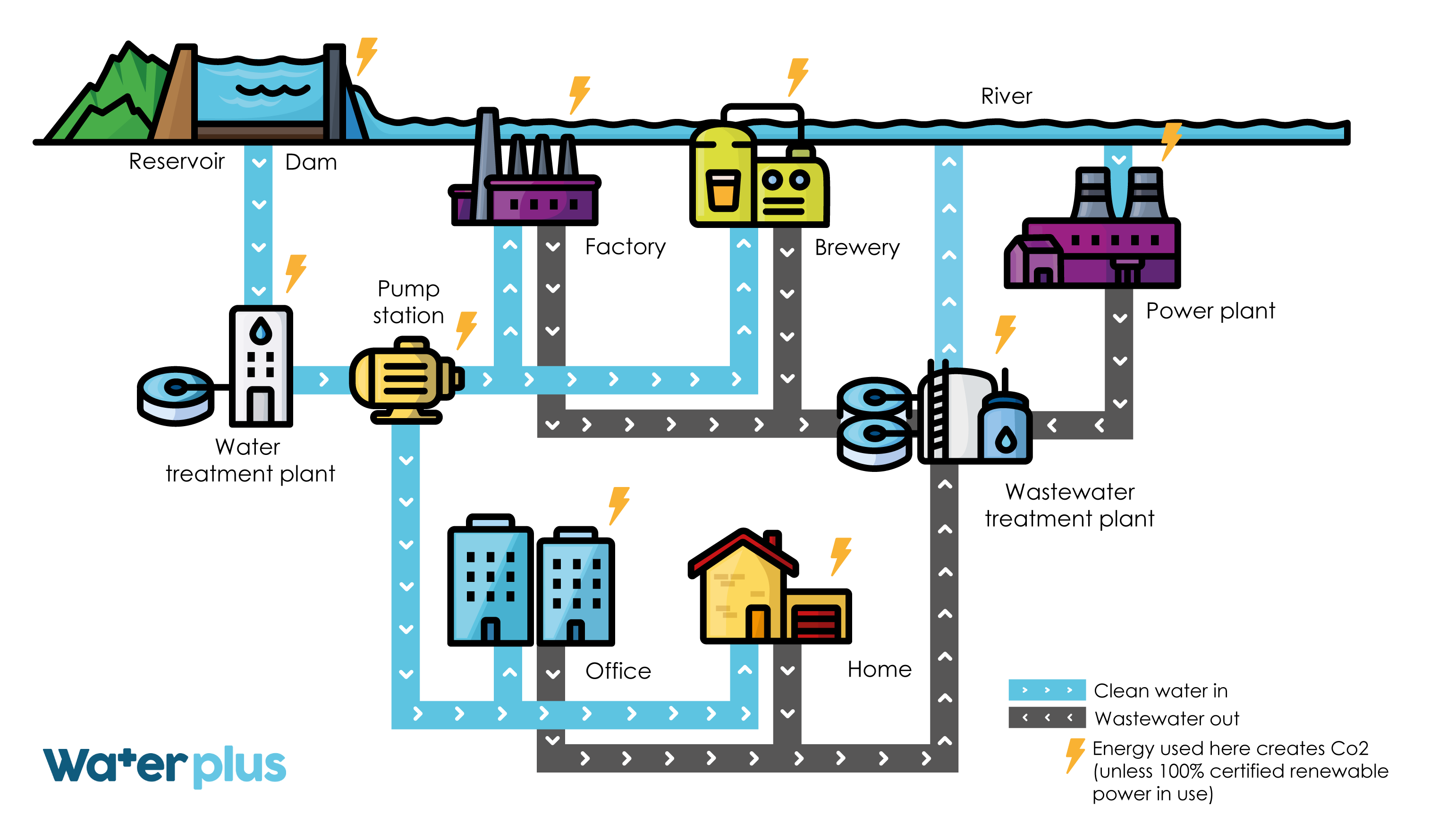 17 June 2022
Green Apple Environment Award winner Water Plus - who shared their expert advice and joined our BASA Open Industry Forum on Sustainability - outline the main things to look for when it comes to water use.
As there's carbon linked to the water you get through your site pipes and the wastewater that's taken away – it's worth looking closer at the water your organisation uses.
Plus, there's a big 130% tax deduction currently available for organisations that invest in equipment including fittings in their buildings – so it's a great time to look at water saving. And it all helps with Net Zero too!
Barry McGovaney, Sustainability lead at Water Plus, the UK's largest water retailer, said: "Water's a whizz at helping lower Scope 1, 2 and 3 emissions. If water is heated with gas at you site, then Scope 1 emissions can be reduced by saving on the amount of water being heated. Hot water heated by electric heaters, would be under Scope 2 emissions, along with the amount of energy purchased overall. Water pumped around by electric pumps is also under Scope 2 emissions.
"Taking into account the cost of gas, the cost of hot water could now be over 4 times more than the cost of cold water - from April 2022 – so water efficient taps, showerheads and other measures can all help there, reducing flow rates so overall water use should come down."
Barry continued: "Knowing what water you're using where is an important first step to take towards powering your organisation to more efficient operations and reducing risks to interruptions. Data loggers are a tool that can help, particularly where you have more than one water meter, or if the water meter cannot be accessed safely to take regular readings.
"It's important to know what water you're using, where and when, along with regularly checking site pipes, fittings and water meters, if they're safe to access. Taking meter readings every month, or even weekly or daily - as part of daily checks at your business - will help you to spot issues earlier.
Be Wiser On Water to boost efficiency at your business
Depending on how you use water at your site and the product you are manufacturing or the processes you have, it pays to be more in the know on what you use where and how.
Barry said: "Looking at your Trade Effluent is also key, as you need to follow the laws in place and have the consent from water wholesalers around this. You need to ensure you're aware of your Trade Effluent consent limits, also ensure the consents are reviewed to make sure they are highlighting any potential inefficiencies in the treatment process and to help in making sure you stay compliant."
There is further information in the Water Industry Act and on water wholesalers' websites about requirements around Trade Effluent, along with in The Trade Effluents (Prescribed Processes and Substances) Regulations.
Reduce risks around interruptions to your operation
Around 1 in 5 businesses have had a water issue on-site, with almost one in ten having to shut their site for an hour or more, research has found **. This included 29% of manufacturers saying they had experienced a water supply interruption in the space of 12 months – and the average manufacturer expecting a 29% loss of output during an interruption of 24 hours or longer.
Also 92% of people from private sector and public sector organisations who completed a poll at the SUSTx Sustainability Summit earlier this year (2022), said they wouldn't know if there was an underground leak at their organisation.
Along with regular monitoring of water use at sites, knowing what to do and where you'd get water if you need it is essential.
Data loggers on water meters, that feed update into an online portal, have helped organisations with managing their water use this year.
• In January 2022, a site had a 12 cubic metre an hour water leak but was not sure where on their pipes. They contacted Water Plus Advanced Services, who located the source of the issue and carried out the repair work. The leak, which data loggers on the water meter and the online portal also tracked, would have cost £22,000 in a month.
To partner with Water Plus – and boost efficiency and reduce impacts on the environment – email: hello@water-plus.co.uk , with the subject heading "BASA Open Forum".
* Further details on the tax deduction at: www.gov.uk/guidance/super-deduction .
**All figures, unless otherwise stated, are from YouGov Plc. Total sample size was 1,099 Senior Decision Makers. Fieldwork was undertaken between 27th October - 2nd November 2020. The survey was carried out online. The figures have been weighted and are representative of British business size.

Written by: WATERPLUS
Copyright: WATERPLUS