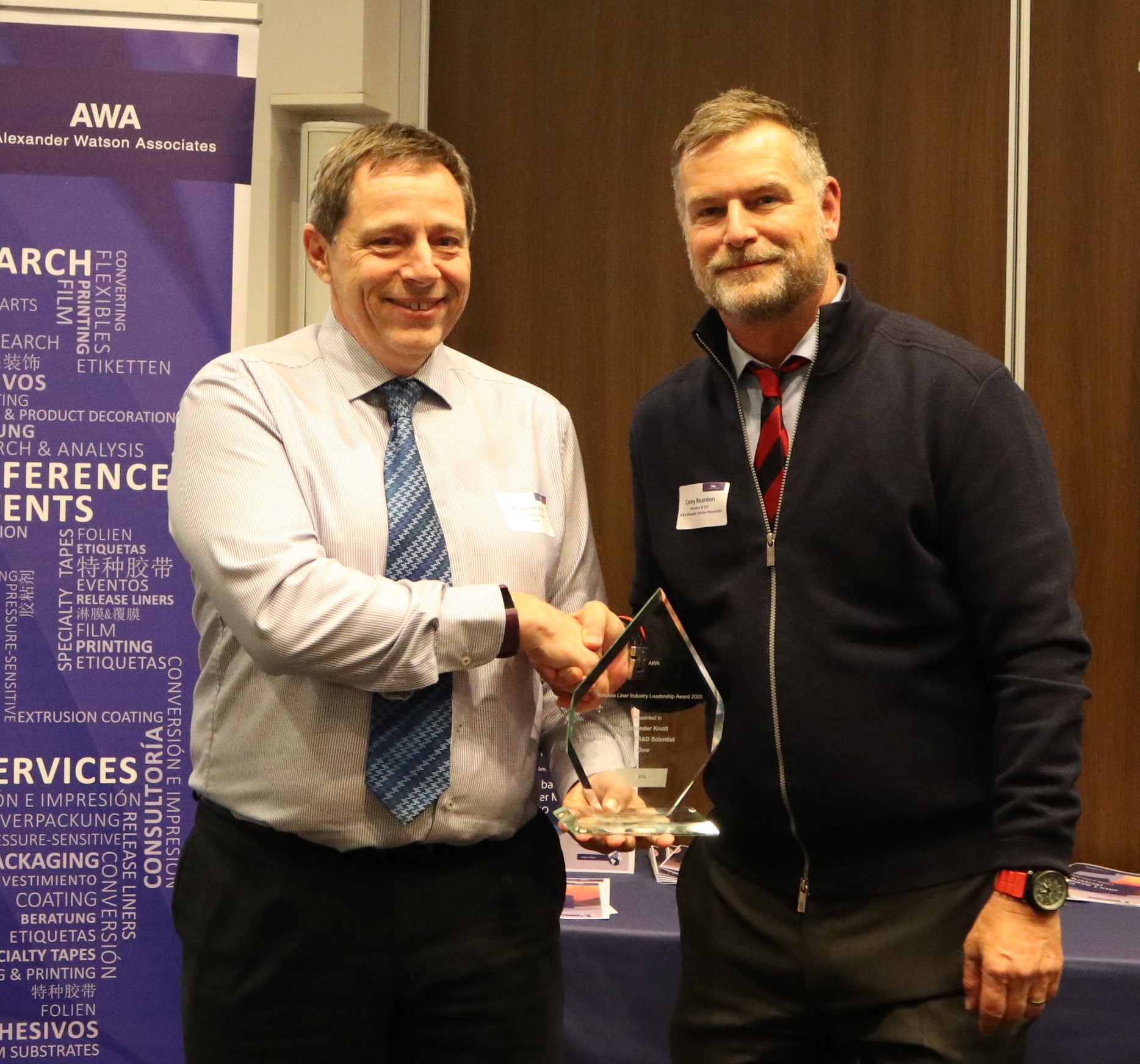 09 March 2020
AWA RELEASE LINER INDUSTRY LEADERSHIP AWARD: Alex Knott, Dow, is the 2020 winner
The annual AWA Release Liner Industry Leadership Award – established four years ago, and now an annual feature of the industry's calendar -- was presented during the recent AWA Global Release Liner Industry Conference & Exhibition held this year in Amsterdam. The deserving winner was Alex Knott, who currently heads up a global team at Dow that has developed pioneering innovations in pressure-sensitive silicone release liner coating technology -- including the introduction of Dow's Flat Release Systems, which revolutionized high-speed, low-coat- weight, high-performance coating.
Alex Knott started his long career as a development chemist at Dow Corning, and over the decades has held positions in application engineering, technical leadership, and senior scientist roles. He is also Chairman of the label association FINAT's Technical Committee and a FINAT board member.
Presenting this special award for an outstanding contribution to release liners, AWA Alexander Watson Associates' President and CEO Corey M Reardon, said: 'Alex has been involved in many collaborative efforts, across the value chain, working with suppliers and customers alike – benefitting the entire release liner industry. He has a global reputation as an authority on silicone release systems, and through his work with FINAT has been instrumental in driving a number of market and technical initiatives.'
Picture caption: Alex Knott, Dow (left), receives the AWA Release Liner Industry Leadership Award from Corey Reardon, AWA Alexander Watson Associates.

Written by: Lorna Williams
Copyright: AWA