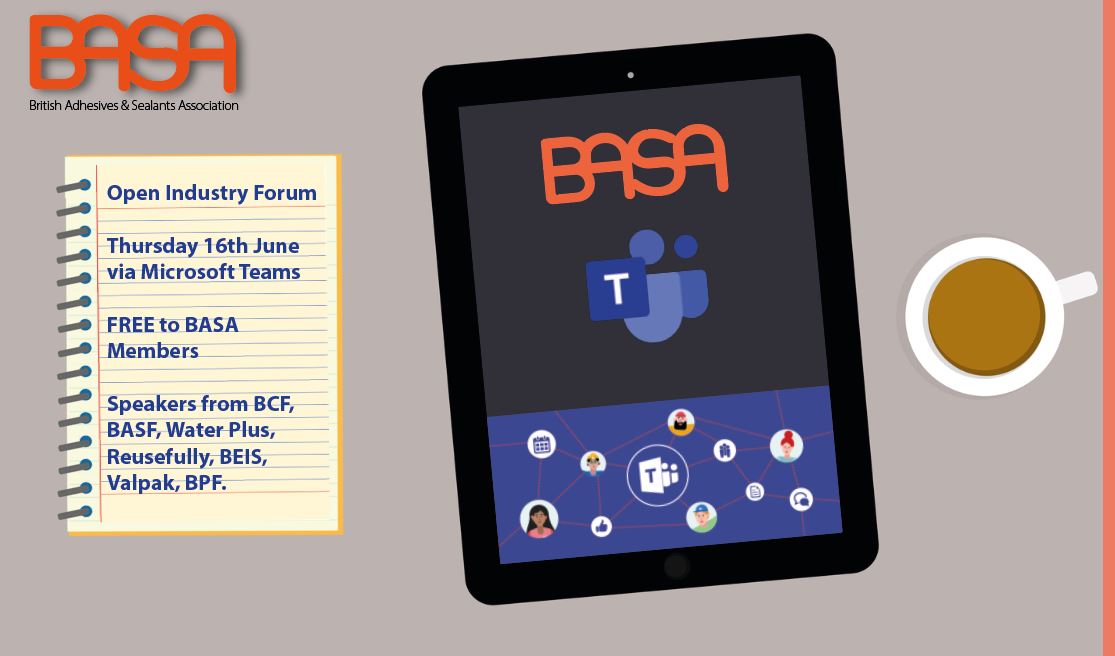 30 May 2022
Register via the eventbrite link below to reserve your FREE place to the 16th June Open Industry Forum, with speakers from BCF, BASF, Water Plus, Reusefully, BEIS, Valpak, BPF & Kraton. Please note this event is for BASA MEMBERS only.
Open Industry Forum, Thursday 16th June 2022 – virtual event via Microsoft Teams
From 09:20 – 09:30 BASA Members can check their connection and setup in Microsoft Teams and can post any questions via Q&A function
09:30 Welcome & Introduction, Jim Palmer BASA Technical officer
09:45 Carbon Literacy – an essential business skill
Tony Heslop, Senior Sustainability Manager at BASF plc.
Those businesses that have received Carbon Literacy training understand the impact they have upon the planet and possess both the knowledge and skills that allow them to reduce their carbon footprint by up to 15%. What is also becoming clear is that not acting now will lead to huge future costs, so join us to hear Tony's 'explainer' presentation that describes Carbon Literacy and why BASF regard it as an essential tool for business sustainability.
10:15 Why water efficiency's a whizz at helping organisations reach sustainability goals
Barry McGovaney, Sustainability Lead and Innovation and Technology Manager at Water Plus
It's well-known increasing efficiencies in the way manufacturers work – and the way products are made - is a must for organisations to help lower unit costs – and lower impacts on the environment. Hear how looking closer at water can help increase efficiencies, cut energy costs, lower risks to interruptions to operations - and how it's a whizz to lower carbon emissions linked to businesses, whatever their size, to help Net Zero.
10:45-11:00 SHORT BIO BREAK
11:00 Zero Avoidable Waste in Construction
Katherine Adams, Director of Reusefully Ltd, a partnership created to provide expert circular economy and broader sustainability advice and support within the built environment.
Zero Avoidable Waste (ZAW) in construction means preventing waste being generated at every stage of a project's lifecycle, from the manufacture of materials and products, the design, specification, procurement and assembly of buildings and infrastructure through to deconstruction. At the end of life, products, components and materials should be recovered at the highest possible level of the waste hierarchy, i.e. reused before being recycled, whilst ensuring minimal environmental impact.
Katherine was lead author for the Green Construction Board publication 'Zero Avoidable Waste in Construction – how best to interpret it' and was also co-author of the Route map for Zero Avoidable Waster in the Construction Sector.
11:30 The Paint Industry's Ambitions for Transforming Household Leftover Paint Recycling
Dr Steve Snaith. Non-executive Director at BCF - TBC
Proudly led by the British Coatings Federation, PaintCare aims to create a circular economy for leftover decorative paint in the UK, increasing the re-use or re-manufacture rate from just 2% today to 75% by 2030. This is because an estimated 55 million litres of waste decorative paint are generated in the UK each year. Most of it finds its way into the domestic waste stream; it then either goes into landfill or gets separated out and disposed of as hazardous waste at considerable cost to local authorities.
Is there anything that BASA can learn anything from the success of this BCF led programme and what can BASA and BASA Members consider in future to deal with the issue of leftover adhesives and sealants.
12:00 Net Zero Emissions – From Why to How
Speaker: Patrick Royce, Department for Business, Energy & Industrial Strategy (BEIS)
The Government's Department for Business, Energy & Industrial Strategy (BEIS) developed two online energy and emissions Calculators for creating pathways to net zero, called My2050 and the MacKay Carbon Calculator. Patrick will be talking today about the MacKay Carbon Calculator, which provides a model of the UK energy system that allows you to explore pathways to decarbonisation, including net zero by 2050
12:30-12:45 SHORT BIO BREAK
12:45 The UK plastic tax is here! Update for Members
Speaker: George Atkinson Policy Manager at Valpak
George will remind Members of the requirements for registration and payment of the Tax that is now in force and look at some of the common questions regarding who is liable for the tax.
13:15 Innovative Packaging ideas to meet the challenge of net zero
Speaker: Barry Turner, Director – Strategy: Plastics and Flexible Packaging, British Plastics Federation (BPF)
Barry will be talking about trade-offs in recyclability and resource use in the context of sustainable packaging design.
13:45 Fostering the bio-economy with biobased raw materials for adhesives
Speaker: Ronnie Zeeman, Kraton
Ronnie will explain what biobased means for Kraton, from raw materials to innovation examples, and how Life Cycle Assessments (LCA) can provide deeper insight on environmental benefit of biobased materials.
14:05 Summary & Closing Comments by Jim Palmer
BASA's Technical Officer will summarise today's presentations and there will be a final opportunity for Members to ask questions on both today's topics and any other areas of concern that they would like to raise.
Please note this is a BASA members only event.

Written by: RW