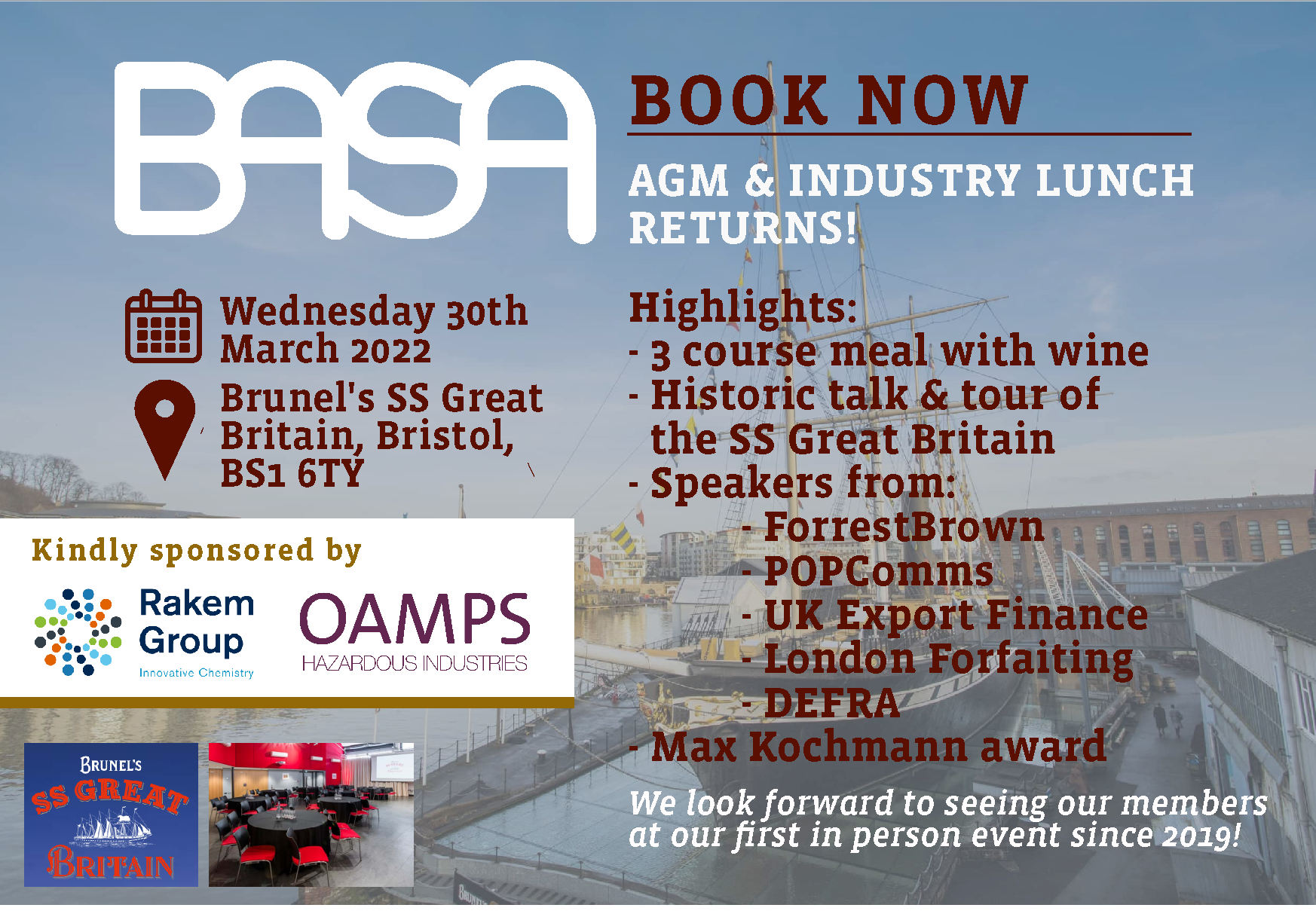 01 March 2022
We are finally returning for our first event since 2019! We can't wait to see our members in person and look forward to a day of networking with collegues.
BASA members can attend the 2022 AGM and Industry Forum at no cost, but why not purchase a ticket to attend the Industry Lunch and take advantage of the networking opportunity to meet your suppliers and industry colleagues. We have a delicious three course meal planned with a glass or two of wine included; a tour of the SS Great Britain and your parking are also included. Before lunch we have some great speakers lined up for you .
ForrestBrown will be attending to talk about the latest updates and how BASA Members can access Tax Credits to develop their business and Damjan Haylor from POPComms will be discussing how to solve the pre-pandemic sales challenges by dismantling barriers to sales using digital tech to capitalise on the coming recovery
We have a two speakers Stephen Head from UK Export Finance and Paul Wright from London Forfaiting who will give a useful preparation 'Win Contracts, Fulfil orders and get Paid!'
To finish the morning's forum off, we have a presentation by DEFRA who will be talking about UKREACH and giving us the latest updates on how the regulation might be amended to deal with the data cost issues and the burden it places on downstream users.
Immediately before the AGM we will have the presentation of the Max Kochmann award for 2019 and then whilst any non-members enjoy a tour of the SS Great Britain we will complete our annual General Meeting, before members and guests proceed to the Great Eastern Hall for lunch.
---
PRICING
We have tried to keep ticket prices as low as possible this year and hope to see you at this year's event after 2 years of cancellations due to Covid restrictions.
Single Ticket Price £120 + VAT with 10% discount if you pay online by credit card.
We are also offering a special price for a table of 8 for £900 + VAT again with a 10% discount if you pay online by credit card.
If you are a raw material member company why not take this opportunity to book a table and invite colleagues, customers or guests for the day.
The event is open to both members and non-members, and if you have been thinking about BASA membership, perhaps now is the time for a day out to come and meet us
---
SPONSORSHIP
If you would like to sponsor the event, with the opportunity to submit an advert for the BASA Digest and Members handbook that will be distributed at the events, and also exhibitions in the UK in May and June included in the modest £250 sponsorship package. Sponsors are also offered a tabletop exhibition area alongside the Open Industry Forum Working Group poster presentation to allow enhanced networking.
---
AGENDA
Draft Programme
09:30: Coffee & Networking
10:30: Open Industry Forum
12:30: AGM (members only)
13:45: Industry Lunch
16:00: Event close
---
LUNCH MENU
Freshly baked bread rolls and salted Somerset butter
Cauliflower and smoked butter velouté, toasted chorizo croutons and chives
Whole roast garlic and herb marinated poussin, sauté potatoes, Salsa Verde and garden leaves
Carrot cake, orange caramel, cream cheese and carrot crisps
Tea/Coffee to finish
Bookers should advise any dietary requirements on the booking form or if guests not known at the time of booking, two weeks prior to the event. Guests will also have 2 glasses of wine included with their lunch.

Written by: RW