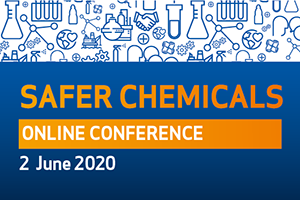 02 June 2020
How are ECHA delivering on safer chemicals? How can companies prepare for the new EU obligations on chemicals kicking in next year? Join this FREE online event for advice on how your company can contribute to protecting the health and environment of EU citizens. Watch the EXHA event here and send us your questions on 2 June 2020. The full content will be made available at 9:00 (GMT+3), but you can watch at any time. We look forward to connecting with you online!
Session 1: Safer chemicals for a greener Europe

EU goals for safer chemicals

Kestutis Sadauskas
European Commission

Delivering on safer chemicals

Bjorn Hansen
ECHA

Session 2: Tracking substances of concern

How to track hazardous sustances in the supply chain

Kevin Pollard
ECHA

Get prepared to notify substances of concern in products

Bo Balduyck
ECHA

Managing substances of concern in products

Therese Lilliebladh
IKEA

Using data on harmful chemicals to improve circularity

Mike Hale
European Union for Responsible Incineration and Treatment of Special Waste (EURITS)

Demo: How to notify articles containing substances of very high concern

Tommy Hägg, Clara Rueda
ECHA

Session 3: Harmonised information for poison centres

Harmonised information improving emergency response in poison centres

Javier Sanchez Saez
ECHA

IT solution – latest developments

Claudia Rimondo
ECHA

How to apply the UFI code in labelling

Kirsi Myöhänen
ECHA

What you should know before preparing your notifications

Daniele Ape
ECHA

Steps to take as industry

Wojtek Popielarz
RB

Notification tools: paint industry perspective

Maria van Kooij, Marc Willemse
European Council of the Paint, Printing Ink and Artists' Colours Industry (CEPE)

Demo: How to prepare a poison centre notification

Heidi Rasikari
ECHA

The session on biocides will be held in the autumn.
Take part
The full content of the event will be available here on 2 June 2020 at 9:00 Helsinki time (GMT+3).
You can send us questions online on 2 June.
No need to register for the event.
Share on social media with #SaferChemicals.
If you miss 2 June, the content will be permanently available here, so you can watch at any time. You can also send us questions at any time using our contact form.
The link is also available via the 'Register' Button on this BASA web page.
Target audience
The event is open to everyone interested.
Sessions 2 and 3 are particularly useful for:
Companies supplying articles containing substances of very high concern
Companies placing hazardous mixtures on the EU market
Cost - The event is free of charge.
Venue - Online.
Language - The language of the meeting is English.
For questions, contact: echa-events (at) echa.europa.eu.
Register