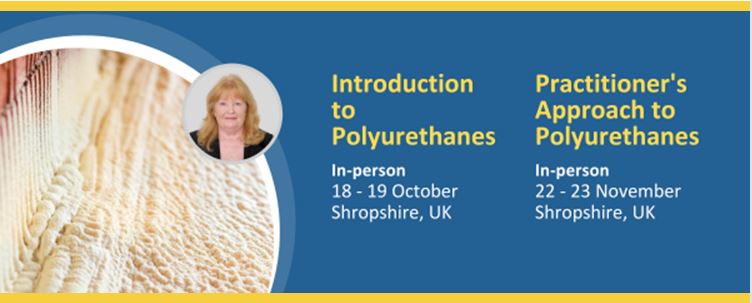 22 November 2023 - 23 November 2023
The course is aimed at individuals who already have an understanding of the basic constituents of PU, wanting to look deeper into how to use polyurethane science and technology. It is also ideal for those with in depth experience of polymer chemistry but who are new to polyurethane. It provides a comprehensive view of the constituents of all the various forms of PU available in the market today, and the methodology that should be used to make products with optimum properties. It also explains how processors achieve the extraordinary range of forms and properties possible. The course explores polyurethane chemistry along with the numeric methodology needed to rapidly build knowledge of the structure-property relationship in a particular application. It also covers the use of rapid learning techniques such as design of experiments.
22-23 Nov 2023
20-21 Nov 2024


Learning outcomes
Best practice formulation methodology, using DOE, and software
Tips on achieving rapid results in research and development projects
In-depth chemical understanding of polyurethane constituents and the additives which give them functionality
A broader understanding of the whole PU industry to help conversations with clients, customers and colleagues
An appreciation of the processes carried out to apply polyurethanes
Course content
Product formulation using DOE

How to carry out product formulation using DOE (design of experiments) via software to achieve rapid understanding of the application and the routes to optimisation, including many practical tips.

PU Applications

In depth description of a whole range of current PU applications.

Composition - constituents, catalysts, additives

A chemical understanding of all polyurethane constituents and catalysts and how to use them.
A thorough description of the chemistry and mechanisms in the use of additives such as flame retardance, anti-static, low surface friction, blowing agents, UV and Oxidative resistance, hydrolysis resistance etc.

Formulation - calculation methods and tools

The calculation methods and tools used to formulate PU systems, pre-polymers and polyurethane dispersions etc.

Testing and measurement

Properties of raw materials, PU systems and end products.
How to handle the data by using some simple statistical techniques.

Different polyurethane end uses and ther formulation

Review of Flexible, Rigid Foams and Coatings, Adhesives, Sealants, Elastomers and Binders, i.e. what they are and how to formulate them.

Review of recycling methods and novel ideas to make low cost, mouldable products.
Who will benefit?
Newcomers to the industry who are qualified in chemistry, polymer technology. As well as individuals directly involved in formulation or synthesis of PU systems and chemicals,
Suppliers to PU industry whether it be raw materials, machinery, or engineering who require in depth understanding to enhance their own developmental activity
PU Systems end-users who need to fully understanding what is used in their systems.
Register